Hey friends!!
Diwali is on its way and for sure many of you must have thought to conduct a Diwali party at your respective houses and must be searching for Diwali Home Party Decoration Ideas. So let's plan it together. I will be giving you some ideas and ways that you can consider for decorating your house for this Diwali party.
Make sure you decorate each and every area of your house. Starting from the entrance to your lobby to kitchen and your back garden. Let's everyone know that it's the Diwali party at your house.
SO LET'S JUST START THE Diwali Home Party Decoration-
1- The Invitation Card ( Diwali Home Party Decoration )
Initially you need to send the invitation card to every person who you are calling for the party. Keep this sending invitation card complementary to the personal phone calls. Even you can choose to send the invitation cards to only those who are your formal people. Keep the card simple and elegant.  Mention the venue and theme (if any) with a sweet inviting line.
2. The Gate Diwali Decoration
So the above was the first step to be completed before conducting any party. Now here is where the actual work of decoration starts. Before decorating your house from inside you need to decorate it from outside so that people may know that there is a party in this house. The first thing is to decorate your House gate.
DAY PARTY
You can either use lights on your gate but if it's the day time party then choose flowers to decorate your gate. Try to decorate your gate in the full length. Do not just hang the flowers on the top. Keep the front area of the gate clean from any decoration so that the passage is clear and nothing creates obstacle while going in and out from the gate. You can also decorate the adjoining walls of the gate with flowers as shown in the picture. Also the side of the entrance can be decorated.
You can also decorate the front room open area with the flowers. Its great if you use colorful flowers.
If you want to add something more to the flowers then you can go for this design.
NIGHT PARTY
If it's the night party then inspite of using flowers, use lights to enhance the beauty of your house. If you are decorating your house then you must use some out of box thinking and some unique ideas to decorate your house. So here is what you should not do and what you should do while decorating your house with lights so that the decoration looks elegant and royal.
DON'T
Merely hanging lights of different colors irrespective of any coordination, does not make your house look organized beauty. May be the house could look just good but it won't look attractive.
DO
You need to use single bright color light for an area and in a much organized and clean way. Inspite of hanging lights you can hang lights on the edges of the house or you can outline your house with the lights. Additionally you can use lights to decorate your back garden or the front lawn. Do not just spread light on the ground but just outline the garden with lights.
3. Gate to House
If there is a long walk from the main gate to your house then don't miss the chance to decorate it as well. Use flowers at the corner of the path so that it does not come in the passage of the people.
4. The House Entrance
DAY PARTY
Again you can use flowers to decorate the entrance of your house. You can take stands and can decorate them with flowers innovatively. This will enhance your entrance. Here are two designs that you can make.
In case you don't want to make use of stand then you can merely do this as shown in the picture. You can decorate the door with some ready mate hangings.
NIGHT PARTY
Of course if its night time then you can replace these flowers in the stand with the lights or inspite of replacing you can add the lights with the flowers.
Or you can use your door and you can decorate it with the lights.
5. Lobby Portion
If there is any lobby then you can decorate it as well. You can make rangoli and decorate it with diyas.
You can also make laxmi feet and decorate the railing with dupatta's or with flowers. And also you can decorate the door.
6. Rangoli
okay!! So first we start with rangoli ideas, there are few things that you should keep in mind, in case you are making rangoli for a home party. Don't make too much of rangoli and not atleast at the entrance of each room because if you do so, you will end up with a spoiled rangoli.
So you need to make rangoli only at two places that is at any open area or at the corner of any hall.
at the open area
if you are making any rangoli at the open area which is not gonna come in use much, make sure your rangoli covers more of the area and you make big rangoli. Don't forget to decorate it with lights. 
at the corner of the hall.
don't run to make it at every corner but only one or two. making it at every corner won't be eye catchy.
If someone at your home or from your party is allergic to colors then you have a great substitute too. You can use flowers and lights to decorate your home.
7. Stairs Decoration
if its Diwali Home Party then how can you forget the stairs. The simplest, safe and attractive idea to decorate the stairs are to put the light lamp on the corner of each step.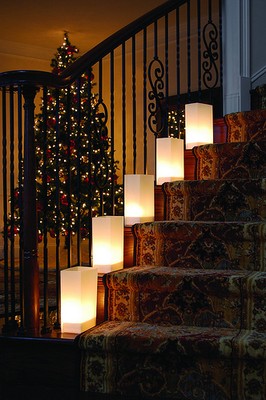 8. The Puja Thali
Of course how can we forget the main thing of Diwali. The puja thali. Make sure that your plate looks attractive and there is the making of any God in it. Don't forget to decorate it.
9. The Spare Table Area
Traditional look
If there Is any table at the main living area of the house where everyone is going to sit then please don't leave it nil as it would look bad. You can simply put some stickers and diya's on it. It will add starts to your diwali home party.
Modern look
Also if you don't want to use a traditional decoration then you can use decorative utensils and lights in it.
10. The Window Area (Diwali Home Party Decoration)
Make sure you use the scented candles at the side of the window area for your diwali home decoration so the wind helps the fragrance to fill the room and the party environment is enjoyable.
11. The Dim Area of House
If you are gonna dim the lights of your room then make sure there are enough substitute of it at the room to make the ambience great and it must compliment the diwali party decoration. If it's a diwali home party and you want to make it attractive then inspite of using leds and diyas, use an idea that is something out of box. You must be having some empty bottles at your house the make use of them. Put lights in it and keep it either on table or any area you want to.
12. The Hangings for Diwali Home Party Decoration
Yes you might have few readymate hangings or you might have few paper hangings but lets do somethings different this diwali. Use bottles or pots with lights for hangings as shown in the picture for attractive diwali home decoration.
here is a sample of bottle hanging.
13. The Dining Area for (Diwali Home Party Decoration)
If you have any lawn then it would be great you make use of that and settle your dining area therein a fresh air. It could be down the tree but make sure that you decorate the tree as well with the lights. Put some light colors flowers in the table to look it more elegant.
Lights on table
if you want to put some lights on the dining table then make sure you use lights in a protective way so that it may not harm anyone. But I would suggest you some scented candles in a transparent glass or cup.
14. Roof Top
If you have an open and big terrace then you can decorate it and you can conduct any program or gossip session in it. Make a dome type decoration with curtains and lots of pillows so that it's comfortable.
15. Diwali Wall Paint
One can also paint their walls with diwali accessories, like diya (mud pot) or crackers but choose something that will look decent for your Diwali Home Party Decoration. It is not necessary to paint your walls, if you feel like painting it, paint it.
16. Lightning
Inspite of using normal lights that everyone does, go for some different lights. When you go market for purchasing lights, make sure your buy some unique design.
I hope you love these ideas of The Diwali Home Party Decoration. Feel free to ask for more suggestions.
Enjoy your diwali and wish you safe and great diwali.
HAPPY DIWALI
"HASTA LA VISTA"